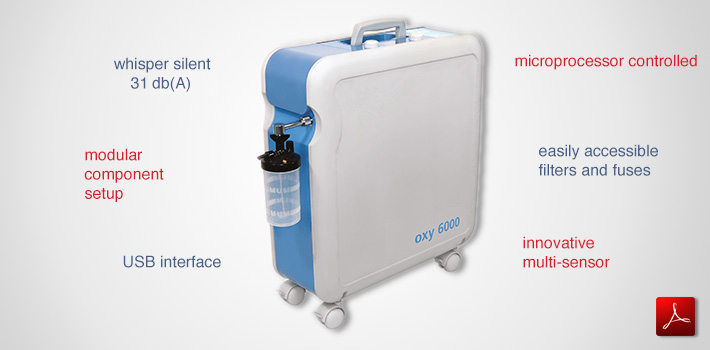 The premium O2- concentrator
The oxy 6000-5 O2- concentrator since years belongs to one of the lightest and quietest long-term oxygen therapy equipment on the world market. Its innovative modular service concept, combined with a 30.000-hour/5-year warranty, makes it the number one among the patient-oriented oxygen concentrators.
oxy 6000-5 – so quiet
The oxy 6000-5 sets new standards of the noise level for its class devices: incredible 31 db (A).
oxy 6000-5 – so reliable
Using of modern technologies together with high quality production underline the quality - Made in Germany - and confidently guarantee 30.000 hours / 5 years of operation for oxy 6000-5. 
oxy 6000-5 – so efficient
The oxy 6000-5 oxygen concentrator work energetically economical with 280 W. 
oxy 6000-5 – so safe
Of course, oxy 6000-5 corresponds to all heightened requirements of fire safety.